Looking through some old images i found this little game thing i posted on another coaster site. They've not been posted here so i thought you might like to have a go at them.

I have a UK one and another more general one. I can't work out what a couple of the general ones are, but I'll post it anyway as I'm sure I wrote it down somewhere on my computer...
Well here goes, it should be easy - especially as the lack of coasters in the UK heh. You need to get them in the right order - but that won't be too hard either...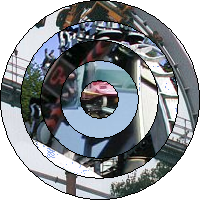 And the more general one: