An accident occurred today at Parc Astérix on their Oxygénarium raft ride that resulted in five people receiving minor injuries. It seems that the fiberglass tube had split causing the boats to get stuck and pile up. I hope that they do not remove this ride as it was very fun and my favorite of this type of raft ride.
Translated article:
Five lightly wounded in the Oxygénarium of Parc Astérix

On Monday, at around 2 pm, in the Aquarium Oxygénarium at Parc Asterix, one of the buoys that ended its course was blocked on arrival, for an undetermined reason. This blockage which resulted in shocks with the other buoys, we deplore five light casualties, reports the local press.
"Only concussed", the victims were taken care of by the medical center of the park. The attraction was immediately closed and an open internal investigation so that this does not happen again. The gendarmerie of Chantilly confirms that the safety rules had been respected.
The Oxygenarium is an aquatic attraction resembling the traditional buoys located west of the park in the universe "Through Time". A Spinning Rapids-type attraction built by the Canadian company WhiteWater West Industries in 1999. After the passengers boarding, the twenty six-seater buoys climb 20 m high and 70 m in length and access a slide for A descent of 195 m long.
Law of the series? This is the third incident on a buoy-like water attraction in space only a few days after that of Didi'land on Saturday and Walibi Belgium on Sunday.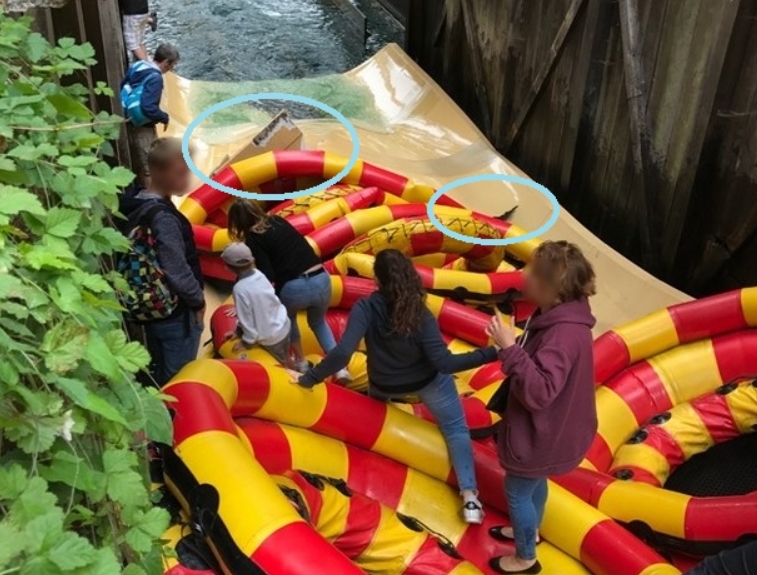 Source