Mutant Spiders and Creepy Critters Crawling On Your Skin in the Virtual World
Mutant spiders, creepy critters crawling on your skin and a 100 story fiery plunge await on North America's first-ever drop tower virtual reality ride, Drop of Doom VR.

Prepare to become the pilot of a futuristic gunship under attack by your worst nightmare – gigantic spiders – through an intense and interactive adventure.

Wearing Samsung Gear VR headsets, powered by Oculus, you'll encounter a high speed vertical ascent up 100 stories, while teetering off the edge of a helicopter. As you rise up, you'll be traveling through a massive city with large skyscrapers around you, under siege by life-sized spiders. Prepare for a high-intensity gun battle against a giant arachnid, which is spewing baby spiders that are virtually crawling all over your body. And, if you aren't creeping out yet, you'll stare straight down and plunge 100-stories to the ground through a city on fire to face off in the final battle – against a spider the size of a van, in full attack mode.

Drop of Doom VR is available for a limited time only at Six Flags Over Georgia. We dare you to face your fears and engage in North America's most intense VR experience yet.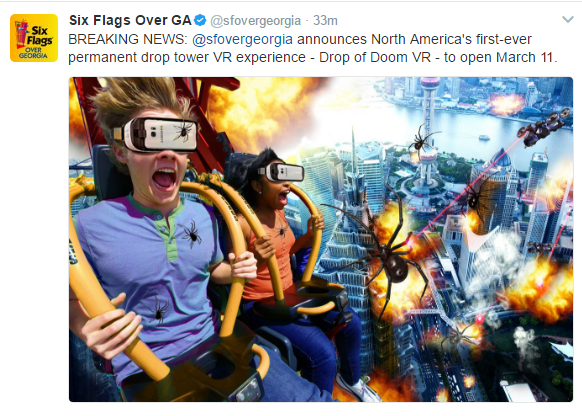 I love how they had to rebrand it as the first permanent VR drop tower since there was a temporary one at NASA Houston for the Super Bowl lol.