MONTICELLO, Ind. ΓÇö Thomas E. Spackman of Monticello, died November 11, 2013, at White Oak Health Campus in Monticello. He was 100.
Indiana Beach (originally known as Ideal beach) was founded in 1926 by TomΓÇÖs father, Earl Spackman. From his youth spent running a soft drink stand on opening day in 1926 to owning the facility and building it into the top tourist draw in the state of Indiana and one of the most popular vacation resorts in the entire Midwest, Tom dedicated his entire life to the amusement industry and the growth of his home community and state.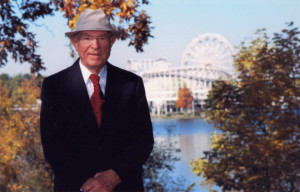 Tom became president of the amusement park in 1946, after the death of his father. Branching-out the appeal of Ideal Beach, Tom introduced the BeachΓÇÖs first permanent rides in 1947. These included a Ferris Wheel, Merry-Go-Round and Roll-O-Plane.
For TomΓÇÖs vision to continue and grow, he knew more people had to come to Ideal Beach. Knowing the immediate area did not have enough population to support the growth, he had to figure out a way to attract more guests. He wanted people to know that they could come to Indiana to have fun and enjoy a vacation. To accomplish this, in 1950, he elected to change the name from Ideal Beach to Indiana Beach.
Throughout his life, Tom received much recognition and a great number of awards for his service to the amusement industry. Some of these included:
National Association of Amusement Parks, Pools, & Beaches Harry J. Batt Trophy (1950) for most outstanding promotion made in the industry in 1950
IAAPA Board of Directors Special Award for Promotion for promoting the state of Indiana through Indiana Beach's slogan "…There's more than corn in Indiana!" (1989)
Indiana Tourism Vista Award (1994)
Monticello Chamber of Commerce Lakes Award (1995)
Sagamore of the Wabash Award (presented by Indiana Governor Frank OΓÇÖBannon, 1999)
Monticello Chamber of Commerce Business of the Year (2000)
Monticello Chamber of Commerce Lifetime Achievement Award (the 1st recipient of this award)
IAAPA Meritorious Service Award (2003)
Honored by Indiana State Senate Concurrent Resolution No. 10, honoring contributions to the amusement industry and the community. (2003)
Inducted into the Restaurant & Hospitality Association of Indiana Hall of Fame (2003)
Recognized by the Mayor of Monticello, Indiana (Robert E. Fox) for his continued contributions to the community-at-large, to tourism, and for his inspired expansions of Indiana Beach Amusement Resort. The Mayor proclaimed June 19, 2005 as ΓÇ£Thomas E. Spackman DayΓÇ¥ in the city of Monticello. (2005)
Recognized by the Governor of Indiana (Mitch Daniels) as being a long-standing force in promoting travel to Indiana and for the role he has taken in developing Indiana as a one-of-a-kind destination for visitors. The Governor proclaimed June 19, 2005 as ΓÇ£Indiana Beach DayΓÇ¥ in the state of Indiana. (2005)
Recognized by Coca-Cola Enterprises for 80 years of partnership & success. (2005)
Arrangements are pending at Springer-Voorhis-Draper Funeral Home.
Source